Knowledge Center
Dan Muto Runs 5K for the Flag
October 24, 2018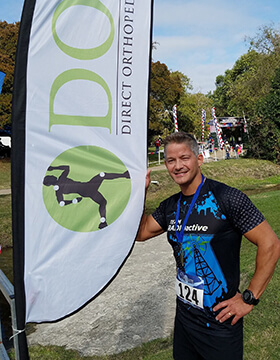 Team Radioactive promotes running, cycling, and triathlon events in Central Texas as part of Emmis Austin Radio. They encourage riders to support a healthy, active lifestyle and participate in events that support a worthwhile cause. Gary Osborne of Team Radioactive encouraged Dan Muto to Run for the Flag in support of Folds of Honor, a nonprofit that provides education for spouses and children of deceased and disabled veterans. Dan won the Run for the Flag 5K on Veterans Day in 2017.
Dan was racing toward the finish line of the 5K and noticed the last runner to pass was wearing an ARMY t-shirt. After a brief discussion the two decided to cross the line together. Dan was hoping to share the win with the veteran but didn't realize the veteran had started the race a few seconds earlier, giving the chip time advantage to Dan. Dan was declared the 5K winner.
Dan Muto is a chiropractor and practiced in the Austin and Round Rock area, but now is vice-president of Muto Technology, Inc. During his career in healthcare, Dan became friends with many of the Austin area orthopedists. At the race, Dan met the Direct Orthopedic Care team of doctors, including Dr. Merritt Pember, a veteran and DOC orthopedic surgeon. Dr. Pember gave an impressive speech about his inspiration for the Run for the Flag event and the charity, Folds of Honor, which receives all proceeds.
Dan and his wife travel to several race events each year, which enables her to travel and Dan to race. Recently, Dan completed the Chicago marathon.  Over the summer Dan competed in Ironman Santa Rosa 70.3 in California.   While they were there they were able to visit several wineries and enjoy the region and its cooler weather. Dan says that the combination of her enjoyment of travel and his passion for racing makes them a perfect team.
Dan will be competing in the 2018 Run for the Flag on Veterans Day race to defend his title. Dan is excited about the new venue at Camp Mabry. Camp Mabry is centrally located in Austin and should attract a lot of local interest and support.