Knowledge Center
PT for Severe Sever's Disease
March 30, 2020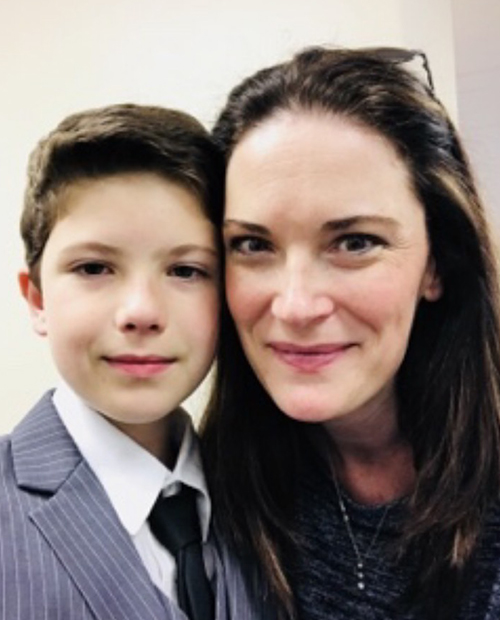 Debra had successful physical therapy sessions with Kaitlyn Rios, PT, DPT, at DOC for her knee and neck pain and mobility issues. Her 12-year-old son, Grayson, suffers with sever's disease. They went to a podiatrist for treatment.
Sever's disease is an overuse injury to the growth plate of the calcaneus (heel) commonly seen in growing, active children 8-12 years of age. Immature bones are not fully ossified but rather have areas of cartilage where growth occurs to allow for bone elongation. The bone can lengthen faster than the muscle and Achilles tendon that attach to the growth plate in the heel bone can keep up. The tissues tighten, resulting in irritation, inflammation and pain. An orthopedic surgeon often recommends conservative treatments for sever's disease including anti-inflammatory medications, ice, stretches, orthotics, and activity modification. In severe cases, a patient's foot will be put in a cast or cast-like boot to reduce heel pressure and inflammation.
Grayson was put in a cast which unfortunately was too tight, causing nerve damage. The compression of the nerve in his leg that controls the muscles involved in lifting the foot (peroneal nerve) made it difficult for Grayson to lift his foot, a condition called foot drop.  Grayson had to learn how to walk again. NASA built a treadmill for astronauts that encases the body in an anti-gravity chamber to reduce body weight and avoid overloading healing tissues while walking. Grayson regained his stepping motion and gait mechanics in the walking chamber.
Sometimes foot drop is temporary, but it can recur with growth spurts. With recurrence, Debra brought Grayson to DOC. Grayson was afraid to visit any doctor after his first sever's disease treatment experience. The DOC team's primary prescribed treatment for Grayson was physical therapy with Kaitlyn Rios. Grayson's mother, Debra, says that Kaitlyn "is just as great working with a 12-year-old as she was working with me. She is patient, kind and encourages Grayson to do more." They work together on stretching and strengthening exercises, myofascial release techniques, and an individualized home regimen between PT sessions. Since Grayson's pain interferes with walking, he was prescribed a walker boot to immobilize the foot while it heals.
Debra describes Grayson's progress during his ongoing physical therapy program: "Grayson had a friend over, and he walked to the creek with his friend while wearing tennis shoes, not a boot, and no need for pain relievers. We are the biggest advocates of DOC and how they have treated us. I'll be sad to leave. A real bond is developed with the person who is treating you if it is the right person. For us, the right person is Kaitlyn Rios."
Source