Knowledge Center
DOC's PT for Prevention and Recovery
January 22, 2018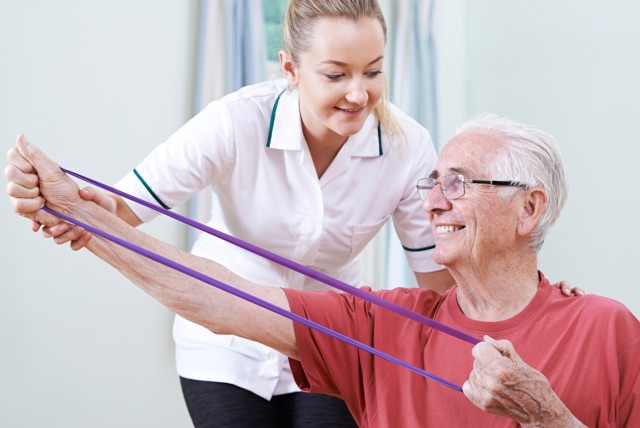 Physical therapists (PTs) are highly educated, licensed healthcare professionals who can help patients reduce pain and improve or restore mobility, sometimes without surgery or the need for prescription medications. At DOC, physical therapists teach patient guests about how to prevent or manage their condition to achieve long-term health benefits. PTs work with individuals to prevent the loss of mobility before it occurs by developing therapy programs for healthier, active lifestyles. If suffering from a chronic condition or recovering from surgery, PTs examine and create a treatment plan to promote mobility, reduce pain, restore function, and prevent disability.
For individuals with acute injuries, the therapist can provide strategies to protect the injured area, reduce the likelihood of further injury and accelerate healing.   Physical therapists provide care for people in a variety of settings, including hospitals, private practices, outpatient clinics, home health agencies, schools, sports and fitness facilities, work settings, and nursing homes. More than 80% of PTs practice in settings other than hospitals.   Physical therapists are required to earn a Doctor of Physical Therapy (DPT) degree from an accredited education program. After graduation, candidates must pass a state-administered national exam. According to the Bureau of Labor Statistics, employment of physical therapists is expected to grow by 36% from 2012 to 2022. The need for physical therapists will remain strong into the future as the U.S. population ages and the demand for PT increases.   DOC recognizes the therapeutic benefit of this conservative care approach and utilizes physical therapy in most DOC locations. DOC physical therapists have expertise in the diagnosis and treatment of musculoskeletal conditions involving the neck, spine, shoulders, pelvis, joints, and upper and lower extremities. For physical therapist positions at DOC in Texas and California, go to DOC Careers.  
For more information on the cost of care, click here.
Physical therapists are required to have a doctoral degree, Doctor of Physical Therapy (DPT). For more information about PT, go to PT Pre and Post-Operative Benefits.