Knowledge Center
Michele says: "Thumbs Up for DOC"
April 13, 2017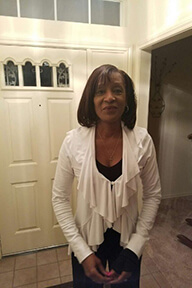 Michele has a serious aversion to doctors . . . until she met the orthopedic care team at DOC. Instead of going to the doctor, she suffered for months with left wrist pain, which radiated into her thumb. Finally she took her swollen wrist to her primary care physician.
When Michele's doctor examined the painful wrist, she sent Michele to Direct Orthopedic Care to confirm her tendonitis diagnosis and provide treatment. When Michele entered DOC's lobby she felt comfortable in the soothing green setting. When I met the staff they made me feel at ease. I am a very petite woman and the staff realized that my wrist didn't match my body and needed immediate attention.
Michele had all of the signs of de Quervain's tendinosis, including pain and swelling on the thumb side of the wrist, and a snapping sensation when moving the thumb. To confirm the diagnosis, Blake Lyman, PA and orthopedic specialist at DOC, had Michele perform the Finkelstein test by plac
ing her thumb against her hand, making a fist with her fingers closed over her thumb, and then bending her wrist toward her little finger. The staff made her laugh through the pain of the test.
She was diagnosed with de Quervain's tendinosis of the left wrist. The goal in treating this condition is to relieve the pain caused by irritation and swelling. Blake gave Michele an injection of corticosteroids into the tendon sheath to reduce swelling and pain. He put her in a splint to rest her thumb and wrist and gave her a topical gel.
When I had a very serious operation, no one ever called to check on my recovery at home. After my first visit to DOC, Andrew, the X-ray tech, called the next day to check on me. After my follow-up visit, Andrew called me to follow-up on the follow-up visit. They have wonderful customer service. At the follow-up visit, Blake asked Michele on a scale of 1 to 100 how her wrist and thumb felt and she responded about 85%. Blake told her that it could be 100%, but Michele said that all of the rest of her parts are not even 85% so she was happy.
I did not second-guess my diagnosis or treatment. I trust Blake Lyman. It was worth the drive for me. I have a new job and cannot take off work so the extended evening hours and weekends make it easy for me to keep my appointments. I have had a shoulder problem for 15 years. Now I want to see Blake for that condition. DOC restored my faith in doctors.
For more information on the cost of care, click here.