Knowledge Center
Choosing DOC allows you to avoid high ER bills!
May 23, 2018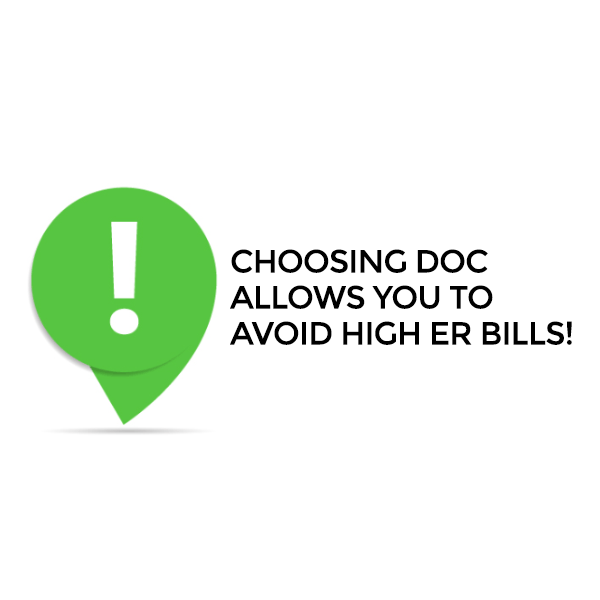 Important Information for Blue Cross Blue Shield Policy Holders
Texans may want to think twice about their next visit to the ER or freestanding ER. Blue Cross and Blue Shield of Texas, the largest health insurer in the state, is changing their policy on June 4, so that some policyholders, fully insured groups and retail HMO members, will be responsible for paying the entire bill for out-of-network ER visits for reasons determined not to be life-threatening or serious.
Good News! Direct Orthopedic Care is In-network with Blue Cross/Blue Shield of Texas… saving you money! That's one of the many reasons why DOC is the smart choice for orthopedic care.
Blue Cross/Blue Shield explains: "Some of our members are using the ER for things like head lice or sprained ankles. Doing so not only drives up costs for our members but also uses limited ER resources for conditions that are not serious. We want to make care affordable for our members." Blue Cross of Texas members with an HMO who have visited an out-of-network ER in the past calendar year received notice of the new policy by mail. "Out-of-network ER utilization is reflected in people's premiums and costs them a lot of money," Dr. Paul Hain, North Texas market president, said. "While we want to be sure people get care, it is reasonable to look at presenting symptoms if you've gone to an out-of-network ER and had symptoms that no prudent layperson would think of as an emergency." President of the DFW Hospital Council, W Stephen Love, says misuse of the ER has been a problem for some time and leads to higher health care costs.
There is confusion about where to get immediate health care. Many people go to out-of-network, freestanding ERs, under the impression they're going to in-network urgent care clinics.
"If you walk into a freestanding ER and ask if they accept insurance, most clinics would answer 'yes.' The real question you should be asking is, 'do you take insurance that's in-network so I will not be billed out-of-network?'" Love said. Before an ER insurance claim is accepted or denied, a licensed physician will review the patient's itemized bill and medical record, including symptoms. Patients will be able to appeal a denied claim through the insurer's appeal process. The ultimate goal is to help policyholders make better decisions and not go to high-cost ERs for conditions that can be treated at doctor's offices or urgent care clinics for much less. Direct Orthopedic Care is an immediate, convenient healthcare resource for any musculoskeletal condition. There is no ER facility fee. DOC accepts Blue Cross and Blue Shield of Texas insurance.  
For more information on the cost of care, click here.
Sources