Knowledge Center
Run, Iram, Run!
October 16, 2018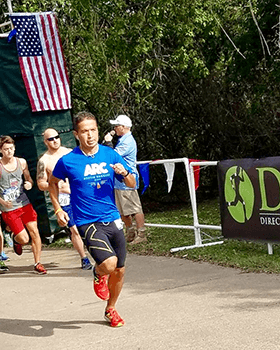 Iram J. Leon was born in 1988 in Chihuahua, Mexico, and moved to Texas when he was eight years old. He was put on the track team after getting spanked for running in the hall in third grade. A schoolteacher and coach, who was a veteran, but bent over from a spine injury, encouraged him to run. Iram continued to run during high school on the track team and college on the cross-country team, inspired by other teacher mentor veterans.
In 2010, Iram suffered a seizure at a birthday party. He had a biopsy and was diagnosed with terminal brain cancer. He postponed brain surgery to run the Austin Marathon. The surgery went well with some complications.
After his diagnosis, Leon's marriage fell apart. Running, he says, held him together and became his therapy. Today he is the primary caregiver to his daughter, Kiana. "<em>There are two questions I ask: 'Can I keep running?' and 'Am I still fit to raise a kid?' Because one is how I get through a day, the other is why,</em>" he says. Now that Kiana is older, 10, she is his training running partner and on her school's cross-country team.
On Iram's first birthday after surgery, the Austin Runners Club president sent out an email about Austin's First Race to raise money for brain cancer research. Iram signed up for the Brain Power 5K. He won the race and raised the most money for the cause. He has been a member of the Austin Runners Club (ARC) since 2009 and has served as its president for the past three years.
Iram won or placed at the top of 5Ks, 10Ks, half marathons, and full marathons over the years, including the Gusher Marathon in Beaumont in 2013, while pushing his daughter in a stroller and singing songs to her mile after mile.
In 2017, Iram won the inaugural 10K Run for the Flag Veterans Day race sponsored by Direct Orthopedic Care. All proceeds go to Folds of Honor, a non-profit that provides scholarships to children and spouses of deceased or disabled veterans. Iram ran to remember and honor the veterans who encouraged him to run when he was young. He plans to run the Run for the Flag race again on November 11, 2018, Veterans Day, at Camp Mabry, headquarters for the Texas Army and Texas Air National Guard. Iram believes that the race will be especially meaningful as runners navigate a course surrounded by planes, tanks and military installations. To register for the race, go to runfortheflag.org.
Iram hopes that his story helps others to cope with adversity and get their priorities in order: "<em>Before anything goes wrong, make good memories with people you love. Put one foot in front of the other. Hang out with your kid.</em>"
Iram does more than put one foot in front of the other. He does it with great speed and distance while pushing a stroller in past races, and for good causes, such as Austin trail restoration projects, Brain Power and Run for the Flag. Run, Iram, run!