Knowledge Center
Bone and Joint Health Action Week
October 12, 2018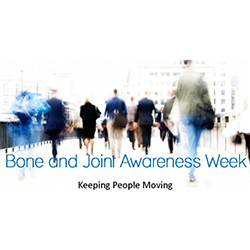 Bone and Joint Health Action Week, October 12-20, raises awareness about the prevention, management, and treatment of musculoskeletal disorders, such as arthritis, back pain, spinal deformity, trauma, pediatric conditions, and osteoporosis. Bone and joint conditions affect more than half of the U.S. population over the age of 18, which can lead to disability, and diminished productivity and quality of life. Five days are dedicated to musculoskeletal disorders during Action Week:  
October 12: World Arthritis Day raises awareness about the disease among the medical community, people suffering from the disease, caregivers, policymakers, support groups, and the general public.
October 16: World Spine Day with the 2018 theme Love Your Spine emphasizes the importance of physical activity and improving posture as part of good spinal health and injury prevention.
October 17: World Trauma Day is a day set aside to educate the international community about prevention, effective intervention and treatment of traumatic injuries.
October 19: World Pediatric Bone and Joint (PB&J) Day highlights the impact of PB&J conditions on children and educates healthcare providers and the public about children's musculoskeletal health issues.
October 20: World Osteoporosis Day increases awareness about the prevention, diagnosis, and treatment of osteoporosis, emphasizing the importance of taking early action for bone and muscle health by exercising regularly, eating a bone-healthy diet and talking to an orthopedist about osteoporosis.
U.S. Bone and Joint Initiative, part of the Global Alliance for Musculoskeletal Health, sponsors Bone and Joint Health Action Week. The Initiative's objective is to raise awareness and increase global funding for prevention, treatment, education, and research to improve bone and joint health worldwide. For more information, visit www.usbji.org. Direct Orthopedic Care's team of orthopedic surgeons, specialty-trained PAs, and physical therapists diagnose and treat any bone and joint condition for pediatric to geriatric guests. 
For more information on the cost of care, click here.