Knowledge Center
Angie Pampers Pups Pain-Free
December 21, 2017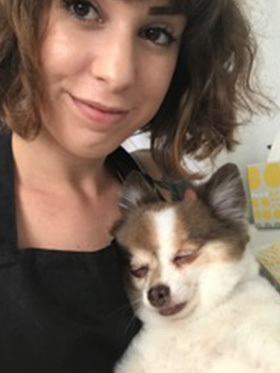 Angie and Tina, a daughter and mother team, are partners in Salty Dog Boutique and Groomery in Carlsbad, California. Angie, a biology major in college, worked with show dogs part-time as an apprentice. Then she launched her dog grooming business, Salty Dog. Tina groomed the dogs of San Diego for over 40 years until she retired, but came out of retirement to join her daughter's new business venture.
Angie explains: "We are crazy about pets and it is imperative to us that each experience is as positive as possible at our salon. Using gentle, calm handling techniques and positive reinforcement, our furry clients love to come to us!" Angie is a standing member of the International Society of Canine Cosmetologists as well as certified in Canine and Feline CPR and First Aid by the Red Cross.
At her previous salon, Angie began to have a serious problem with her left hand. It was swollen and painful, particularly when holding onto a pet for hand scissoring or when turning her wrist. She had been to see multiple physicians to try to determine what was wrong with her hand. She was diagnosed with carpal tunnel syndrome, but that is not what is wrong with her hand. She didn't go to the ER because she knew that she would be referred to an orthopedic hand specialist and it would take time and cost money.
Instead Angie came to Direct Orthopedic Care and was diagnosed with De Quervain's tendinosis. The word "tendinosis" refers to a swelling of the tendons, which can cause pain and tenderness along the thumb side of the wrist with certain thumb and wrist movements. De Quervain's tendinosis may be caused by overuse.
The immediate goal for DOC's orthopedic specialist in treating Angie's De Quervain's tendinosis is to relieve the pain caused by swelling. Angie has had two cortisone injections about four months apart to reduce swelling and enable her to work without pain.
Angie does not have health insurance so needed an affordable alternative to diagnose her condition and relieve her pain. She wanted an immediate solution in order to continue to groom her clients at Salty Dog. Her DOC appointment was "amazing, quick, super convenient, and affordable. I also finally got an accurate diagnosis. I am working on the insurance situation and hope to have that resolved. I have discussed surgery with the DOC orthopedic surgeon."
The goal of surgery is to open the thumb compartment to make more room for the swollen tendons and reduce friction. After surgery, Angie will be pampering pups at the Salty Dog salon once comfort and strength return to her left hand.
For more information on the cost of care, click here.