Knowledge Center
Hand Breaks Cycling Fall and Tom's Wrist
October 17, 2017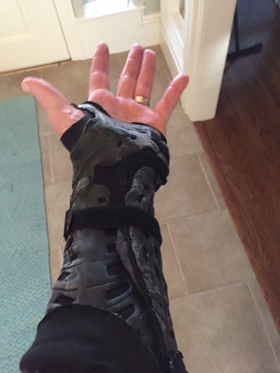 Tom fractured his wrist when he fell while cycling. He extended his arm forward to break the fall. The impact of falling on an outstretched hand can be several times an individual's body weight, leading to broken bones.
One of the most common cycling fractures is of the distal radius. The radius is the larger of the two bones of the forearm. A fracture of the distal radius occurs when the area of the radius near the wrist breaks. A distal radius fracture is almost always one inch from the wrist end of the bone.
A broken wrist usually causes immediate pain, tenderness, bruising, and swelling. In some cases, the wrist hangs in an odd or bent way. It is important to get evaluated by an orthopedic specialist soon after the injury occurs in order to initiate treatment. Tom said that his wrist "hurt like crazy."
He needed to be treated with some urgency because of the pain and a travel commitment a week after the injury. Tom explains: "The normal process to see a specialist is so slow. It takes forever because of the referral system and waiting time for an appointment. My wife discovered Direct Orthopedic Care. Everyone in the DOC office had a sense of urgency and incredible, helpful attitudes about caring for my injury."
To confirm the diagnosis, the DOC orthopedic specialist ordered X-rays of Tom's wrist. X-rays show if the bone is broken and whether there is displacement, a gap between broken bones. Treatment of broken bones follows one basic rule: the broken pieces must be put back into position if they are displaced and prevented from moving out of place until they are healed. Tom had a non-displaced wrist fracture and was treated with immobilization in a cast.
When Tom returned to DOC for his follow-up visit, Paulina Purnama, PA, met with him about his after injury care. Paulina gave him a script for physical therapy. Tom describes his appointment with her: "She is such a pleasure to be with, very knowledgeable, with a great attitude…just a nice person. You have a winner with her. I travel often, but will begin a physical therapy regimen to help improve the motion and function of my wrist."
Most people return to all of their former activities after a distal radius fracture. Tom expects to cycle again. In fact, he has already taken a spin around the block.
For more information on the cost of care, click here.