Knowledge Center
National Radiologic Technology Week
November 1, 2019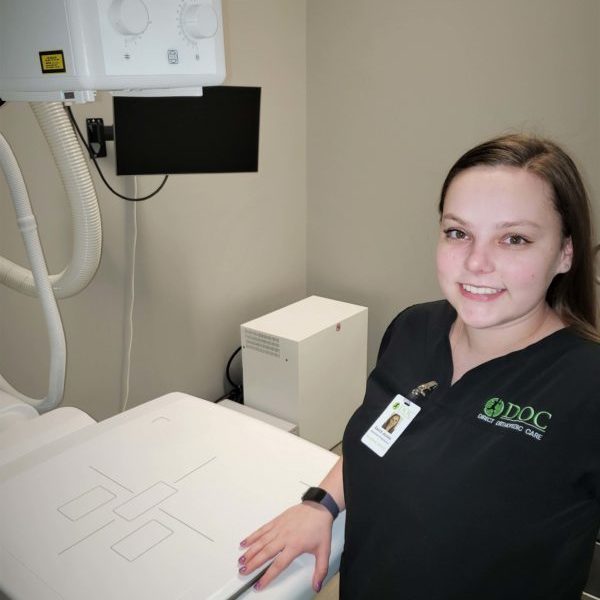 National Radiologic Technology Week (NRTW®), November 3-9, is celebrated annually to recognize the vital role RT professionals play in guest health care. The 2019 theme is "Waves of the Future." To celebrate NRTW at DOC, we asked our RTs some questions about their profession and guest experiences. RT questions and answers:
What is your favorite bone to X-ray and why?
Emily:
"Toes. Not one toe is the same and it makes me think outside the toe box."
Kara:
"The shoulder. My teacher made me practice over and over to get the angles right until I was the best at shoulder X-rays. Now I get them perfect every time."
Samantha:
"The humerus. It is a very strong bone and it is difficult to break so it typically comes with the best injury story."
Sherita:
"Hands. You can tell a lot about a person from their hands. Do they work with their hands? Is that glow in the dark nail polish? Are they nervous about their visit? It's a great conversation starter."
Taylor:
"Scapula. They can be a challenge to get just right. So getting a really good Y view without having to repeat gives me a sense of accomplishment and makes me really happy…maybe even a little too happy!"
What is your funniest X-ray one-liner or meme?
Emily:
"No, your other right!"
Kara:
"Why did the skeleton go to the party alone? He had no body to go with him!"
Sherita:
"I love songs! This cool one by Midnight Star says
If it ain't broke don't fix it. Just relax and let it be.
"
What is the best experience you have had with a DOC guest?
Kara:
"A guest expressed her appreciation about how gentle I was when I took her X-rays. I was glad I made the X-rays a positive experience for her."
Samantha:
"An elderly guest at DOC Denton suffered with bilateral hip pain. It was difficult for her to get in the correct positions for X-rays. She was a trooper and kept a positive attitude throughout the entire process. It was a joy getting to work with her."
Taylor:
"A guest came in who was unable to stand or move his body for the necessary X-ray exam. I had to be creative to get the proper images without causing pain and discomfort. For the majority of the X-rays, he was seated and comfortable. At the end of the exam, the guest and his daughter expressed their appreciation for my patience and kindness."   What are the waves of the future for RTs? At DOC, the future includes more positive guest experiences. Please join with us to recognize and celebrate NRTW with your favorite RTs.
For more information on the cost of care,