Knowledge Center
Sean's Head Over Handlebars Accident
February 6, 2018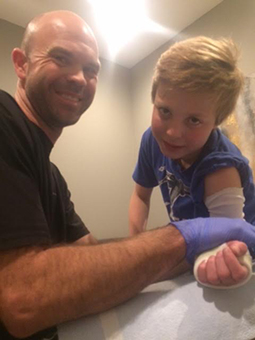 I was mountain biking on a steep hill with switchbacks on the downhill in Dallas. I was riding fast and had to brake to make the sharp turns. I flipped over the handlebars of the bike. It really hurt when I hit the ground.
I was riding with my dad and sister. My dad told me that the arm is broken and sent my sister to go get our mom to pick us up and go to DOC.
When I went to DOC, they welcomed me and I didn't have to wait at all. They took me into a room to examine my arm. Then they took me for X-rays. I put my arm on the table and a big camera looking thing zoomed in and out.  The scariest part was getting a shot for the pain with a big needle. I just squeezed my fist and tried not to feel the pain by thinking of different things, like what's going to happen at school tomorrow.
Then they fixed me up with a cast, wrapped it around and let it dry for a little while.
The best part about the cast was going to school the next day. I'm a new kid at school and not very high on the popularity chart. With a broken arm I suddenly went to the top of the chart. Everyone, K through 6th were surprised about the broken arm and wanted to sign my cast. I brought a couple of pens to school. The best part about the cast was that the girls wanted to sign it. The girl I like signed it first and even signed it over and over again. I felt happy and popular.
It has been hard to do chores with my arm in a cast. In fact, I got out of lots of chores because of the cast. My sister had to do most of them.
I would tell my friends to go to DOC if they break arms or legs or anything like that because you don't have to wait, like, three hours. You just walk straight in and they'll fix you up. They make you feel welcome.
For more information on the cost of care, click here.