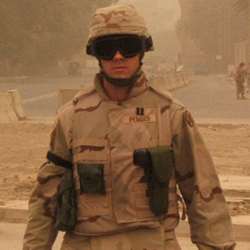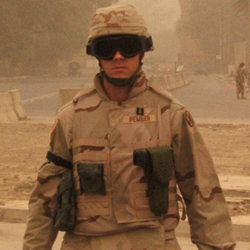 Dr. Merritt Pember, orthopedic surgeon with Direct Orthopedic Care, Austin, Texas, specializes in orthopedic sports medicine and trauma care. In 2004, Dr. Pember completed his orthopedic surgery residency at Texas Tech. From 2004 to 2008, he served in the U.S. army and cared for the orthopedic needs of military service members stateside and overseas.
Dr. Pember shares his knowledge of wartime orthopedic care at national presentations based on his experience during Operation Iraqi Freedom in Baghdad. Dr. Pember was a surgeon at the 86th Combat Support Hospital in Iraq in 2005, where the documentary, Baghdad ER, was filmed during his service. The film documents war trauma in the ER, but also shows the heroism, courage and dedication of U.S. troops. Dr. Pember was reassigned to the 225th CSH in Mosul and served in Iraq as an orthopedic surgeon for six months.
In 2008, Dr. Pember was honorably discharged from the Army and started private practice. He has extensive experience in the latest techniques of arthroscopic knee and shoulder surgery, joint replacement surgery, adult/pediatric fracture care, and regenerative medicine.
The orthopedic surgeons at DOC believe that stems cells and PRP are ideal to help treat and heal rotator cuff conditions, tendinitis, ligament injuries, and cartilage damage from osteoarthritis. Recent studies indicate that stem cells and PRP injected into fractures during surgery promote bone healing and help to accelerate the healing process.
Charlie, a recent DOC guest, fell and heard a loud pop. The noise was his knee. Dr. Pember diagnosed Charlie with a quadriceps tendon rupture, requiring surgery. Dr. Pember explained to Charlie that the PRP and stem cell combination injections at the surgery site are like a "miracle-grow" type agent to accelerate the healing process. Charlie agreed and six weeks after surgery raves, "I attribute my advanced recovery to the outstanding hands of the DOC surgeon, the PRP/stem cell therapy, and Mike at ATI Physical Therapy. I would recommend that you take out a loan if necessary in order to benefit from this healing therapy."
For regenerative medicine therapy, a musculoskeletal injury or chronic condition, come to the DOC Austin location for diagnosis and treatment by Dr. Pember. This is what DOC guests are saying about their care:
5 Star Review, Carol M:
"I was in excruciating pain and called the DOC Round Rock location…. I couldn't be more pleased with this facility. Not only are they convenient, they are compassionate and very knowledgeable. They took X-rays and after the exam, Dr. Pember gave me two deep joint ultrasound guided injections. My cost was significantly less with DOC and I got immediate care. I couldn't be more pleased with my entire experience. I highly recommend this Austin/Round Rock DOC group."