Knowledge Center
Deb Now has a Leg to Stand On
January 29, 2019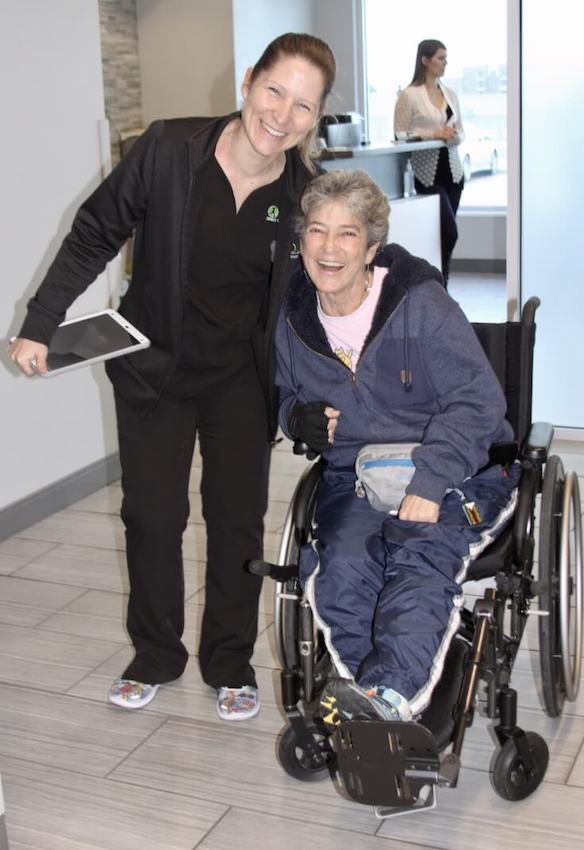 Deb Lewin was born and raised in Rhodesia/Zimbabwe. She lived in Israel and South Africa and represented two countries in field hockey and squash. She left Africa because of political unrest and became a U.S. citizen ten years later, working as a videographer, paramedic, ropes challenge course instructor, and Master Neuro-Linguistic Programmer. In 1996, Deb's car was broadsided in Dallas by another vehicle. She suffered a traumatic brain injury, left side paralysis, impaired vision and hearing, spinal fusions, nerve surgeries, and chronic pain. She has been confined to a wheelchair for 23 years. Her greatest challenge became her greatest "opportunity" when she started riding horses for therapy at Equest. She competed twice as a top-10 rider in the Equestrian Paralympic trials and competed internationally on Team USA. Her good foot is her right foot and she uses it to propel her wheelchair and to stand. A few months ago, she stood and her right leg gave in and she collapsed on the floor, injuring her foot. Now she didn't have a leg to stand on. Her partner remembered DOC radio advertisements and suggested that they go to the DOC location three miles away instead of the ER. The DOC team, Cari and Blake, were waiting for them, although it was time for the office to close. Cari and Blake turned a very painful, anxious situation into a positive experience. Her foot was gently X-rayed. The X-rays confirmed a fracture and she was placed in a boot for two months. The DOC team followed up with X-rays at two-week intervals to closely monitor healing. Deb describes her DOC experience, "I was in a devastating situation because my good foot was now injured. Cari and Blake genuinely cared about my issues and calmed my fears. They were very professional and friendly. DOC has remarkable people offering an amazing service. They were kind and compassionate, absolutely fantastic. The cost was reasonable, more than affordable. I have recommended DOC to every family member and all my friends. There is no higher compliment than that."  Now Deb has a leg to stand on and can even take a few steps. Deb wrote the story about her "opportunity" in her recently published book, One Brain Injury will Change Your Mind!
"I share my story so others will realize that my wheelchair and disability do not define me. My objective is to encourage others to look at the brighter side of life and turn challenges into positive opportunities. DOC was a positive one for me and allowed me to continue to RideStrong through life's journey!"
Deb Lewin will be featured in the Bold Beauty Texas project, which celebrates women who define beauty to include their abilities to boldly defy life's challenges. The images of these beautiful women and their stories will be on display in the People's Gallery in Austin City Hall, February through December 2019 and in the Austin State Capitol in the summer.
For more information on the cost of care, click here.