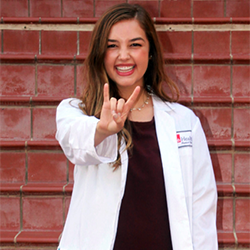 Dr. Merritt Pember, Direct Orthopedic Care (DOC) surgeon and veteran U.S. Army Major (Operation Iraqi Freedom), a team of DOC military service veterans and sponsor partners created the Run for the Flag race to honor veterans and as a fundraiser for Folds of Honor. Folds of Honor provides educational scholarships to spouses and children of America's fallen and disabled service members.
Kylie Nemecek is a Folds of Honor scholarship recipient, who graduated Summa Cum Laude from the University of South Carolina in 2017, with a Bachelor of Science degree. Currently, Kylie is a student at the University of Texas Medical Branch earning her Doctorate of Physical Therapy.
Kylie's father, Lt. Colonel John Nemecek, USAF, is an 80% disabled veteran, who has undergone multiple surgeries and postoperative therapy, inspiring Kylie to pursue her goal to become a physical therapist. Her hope is to provide excellent, affordable therapy to service men and women who are recovering from injuries.
Folds of Honor invested in Kylie's education and she has given them an exceptional return on their investment: "I am so appreciative of the many donors, sponsors and partners who helped make it possible for me to earn my undergraduate degree. I don't take their investment lightly and work hard to be the best student and person I can be." Kylie gives back by serving on the Folds of Honor Speakers Bureau, attends fundraising events, such as the Veteran Golf Classic and Run for the Flag.
Direct Orthopedic Care (DOC) invites the Austin-area community to the second annual Run for the Flag Veterans Day Race on Sunday, November 11, 8 a.m. at Camp Mabry. Major Dan Rooney explains: "With the support of the community and the funds raised from the Run for the Flag Veterans Day race on November 11, we can change the lives of hundreds of America's grieving spouses and children of America's fallen and disabled service members."