Knowledge Center
Morgan, Aerial Circus Artist, Flies to DOC
January 12, 2020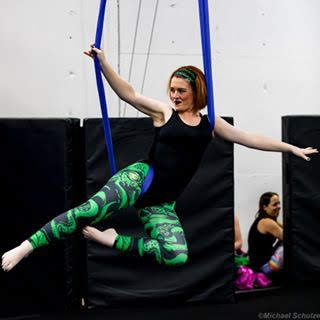 Morgan Sowell flies through the air with the greatest of ease as an aerial circus artist. Aerial is the art and practice of performing acrobatics in the air, using a wide variety of apparatuses such as aerial silk, static trapeze, hammock, and lyra (hoop). Artistically, it is a combination of gymnastics, dance and the circus arts. The sky is the limit to what an aerialist like Morgan can do.
Aerial circus art is not a routine cardio workout. It is an artistic performance while climbing, inverting, balancing, spinning, and twisting, all with grace and skill. Morgan strengthens her muscles with these moves. She works out regularly: aerial art 3 to 4 days a week and rock climbing or going to the gym more days than not, for fun and exercise. This is her self-care routine to balance her serious job as Dr. Sowell, psychologist.
However, she began to experience shoulder pain and wanted to have it diagnosed immediately. She did not want to acerbate a possible injury by continuing her intense workout schedule. She heard the DOC radio ads, checked her insurance, found a close location, and got a same-day appointment. Her diagnosis after X-rays and an ultrasound: a strained, but not torn tendon. Her recommended treatment was physical therapy
Morgan's upper back muscles are strong from aerial arts and rock climbing. Chrystal Clark, DOC DPT, designed a therapy program to strengthen Morgan's minor muscle groups with rehabilitation exercises to perform together and at her home. Dr. Clark ensured that Morgan knew how to do the exercises with precision and texted her videos to help her remember. Chrystal is a rock climber and familiar with the physical stresses of that sport. She researched Morgan's aerial sport and added new strengthening exercises, including handstands, with the goal of returning Morgan to her pre-injury condition.
Morgan is back in the air. Her instructors at the aerial circus arts class commented on her increased strength and mobility. She explains: "Who knew there was a muscle there that I needed to strengthen? Chrystal did. I have recommended DOC to other aerial artists. My pain subsided within a week or two. I continued with PT and home exercises to build the weaker muscle groups and protect my shoulder joint."
Morgan offers tips for other aerial artists: "Make sure you warm up and stretch your muscles to get them ready for twists and leaps. Listen to your body. Take a break. You may need a rest, recovery day. Sometimes we push ourselves harder than we should."
For more information on the cost of care, click here.