Knowledge Center
Radiologic Technologists at DOC
February 15, 2019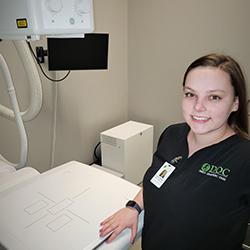 Radiology is a specialty field in medicine, which involves using visual diagnostic equipment to identify and treat medical injuries and conditions. Radiologic technologists or radiographers are responsible for imaging, such as X-rays, magnetic resonance imaging (MRI), computed tomography (CT scans), and musculoskeletal sonography.  
Radiographers at DOC do the following:
Capture quality X-ray images of the injured or affected area for the orthopedic specialists
Avoid unnecessary exposure to radiation
Explain the procedure
Display a compassionate and professional presence
Verification of insurances
Schedule and communicate with guests
DOC radiologic technologist, Emily Alessi, explains her imaging objective: "At DOC, we provide orthopedic care to fix bones and soft tissue issues of all major joints and extremities. The surgeons and orthopedic specialized PA-C often need a series of detailed, high-quality images to assess and help diagnose the injury or condition. My goal is to provide quality images, make my guests feel comfortable and safe while performing the series with the same sense of urgency as the ER. Here at DOC, we utilize state-of-the-art X-ray Machines (U-Arm)." Radiologic technologists receive training through a certification program, an associate's degree or a bachelors degree in radiology. They must obtain their state license and ARRT registration to be eligible for employment as a radiologic technologist. Certificate programs in radiology generally take two years to complete. The student completes classroom work and clinical training on radiology equipment, anatomy and positioning, pathology, radiation safety, physics, image processing, and patient care.
The Joint Review Committee on Education in Radiologic Technology also accredits radiography programs and schools. Radiologic technologists are required to obtain state licensure to work in the profession. Licensing requirements are determined by the states' health boards and include the passage of a licensing exam. Some states may accept certifications from the American Registration of Radiologic Technologists (ARRT). For state licensing information, go to Texas Medical Board The U.S. Bureau of Labor Statistics (BLS) predicts job growth of 9% for radiologic technologists from now to 2024. As the population grows older there is an increase in medical conditions that require imaging as a tool for making diagnoses. DOC's healthcare team at every location includes credentialed, experienced radiologic technologists and state-of-the-art X-ray equipment to provide fast, accurate imaging, and diagnoses. To apply for employment as a radiologic technologist for DOC, visit DOC Careers.
For more information on the cost of care, click here.